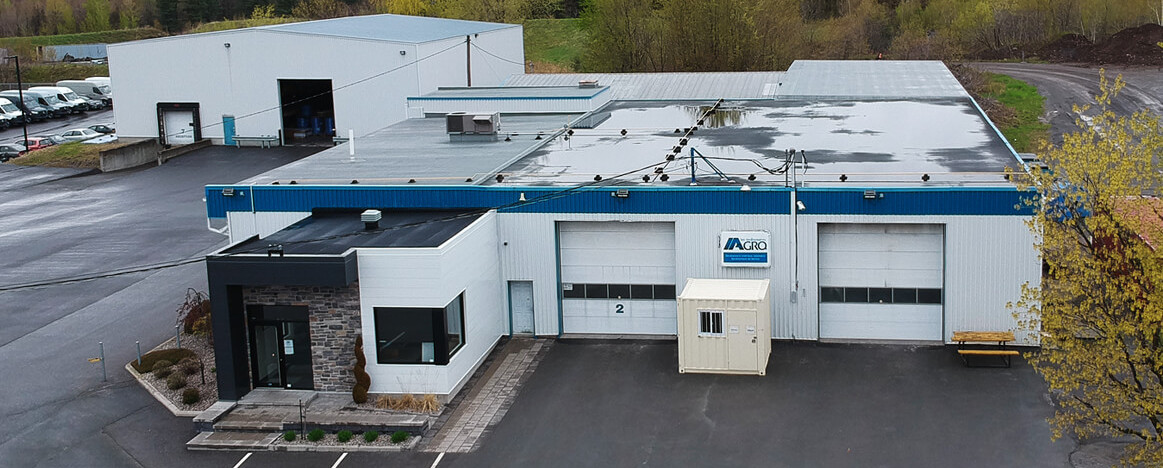 Revêtements Agro: The industry leader in wall coverings
From our inception in the mid-1980s, the sound leadership of Michel and Rock Marcoux has allowed Revêtements Agro to continually evolve and grow into a highly diversified manufacturing, distribution and installation resource, meeting the demand of Eastern Canada's wall covering industry. We offer an extensive range of the highest-quality ceiling and wall covering materials, laminated paneling, truck interior and bed liner solutions.
We're proud to serve a wide range of clients, both large and small, in the food, agricultural, industrial, institutional and transportation market sectors. We are committed to maintaining the highest quality standards, not only in the manufacture of our wall coverings, but also in the complete spectrum of associated services we provide. This ongoing commitment has been instrumental in attracting, and more importantly, retaining, our valued base of satisfied customers.
Wall covering market sectors served by Revêtements Agro
Food industry: alimentary cold room applications, meat rooms in supermarkets, food processing plants, slaughterhouses
Restaurant industry: kitchens, walk-in fridges and freezers, cold rooms, dish rooms, break rooms
Institutional: bathroom, cafeteria and kitchen applications in hospitals, schools, laboratories
Agricultural: dairy farm buildings and applications in other agricultural sectors
Transportation: fiberglass interior wall panels, ceiling panels and skylights for standard and refrigerated trucks, Teflon bed liners
The ability to keep up with the demand for wall coverings within the expansion initiatives of our larger customers has been instrumental to our continued growth over the past 30 years. In order to keep pace with new location construction schedules, we've continually invested in technology, machinery and the development of new manufacturing techniques. We've also expanded our inventory control and distribution capabilities. Our commitment to continuous improvement has led us to implement industry best practices in manufacturing, supply chain management and inventory control, giving us the ability to respond rapidly to surges in customer demand.
Accessories and installation materials
In order to maintain our position as Eastern Canada's leading one-stop resource for wall covering products and services, Agro always maintains an extensive inventory of installation materials and accessories. Whatever the application, rest assured you'll have not only the highest quality wall and ceiling panels, but also all manner of accessories, such as moldings, joints, end-caps, inside/outside corners and dividers.
To ensure a long-lasting and low-maintenance installation, Agro is also your resource for the top-tier sealants and adhesives. We're proud to be the exclusive industrial distributors in Canada for all SIKA products.
Services: Consulting and installation
If you have your own dedicated cold room installation teams and simply need a reliable supplier for materials, Agro's extensive on-hand inventory and logistics capabilities means no waiting or downtime for your construction resources. Any and all materials needed to complete your project are just a phone call away.
If you're a contractor or business owner with a construction project but are not intimately familiar with the array of wall covering materials and accessories, or the specific applications for which they are best suited, Agro is your A-to-Z resource for wall covering projects.
Agro's highly experienced project managers will be pleased to perform a site assessment and lend our expertise to ensure a successful project outcome. Depending on the application, we'll help you select the appropriate type and quantity of wall and ceiling panels, insulation, adhesives, sealants and related accessories for perfect fit and finish. We'll also ensure that your materials conform to any hygiene requirements in your industry. Agro carries several product lines that comply with all HACCP standards for proximity to foodstuffs.
Revêtements Agro also has an extended network of highly qualified installation teams in each market sector, all with decades of experience serving Quebec and Eastern Ontario.
Whatever your needs, we've got you covered! For all your construction projects, large or small, contact your Agro representative today for rapid and hassle-free project completion.